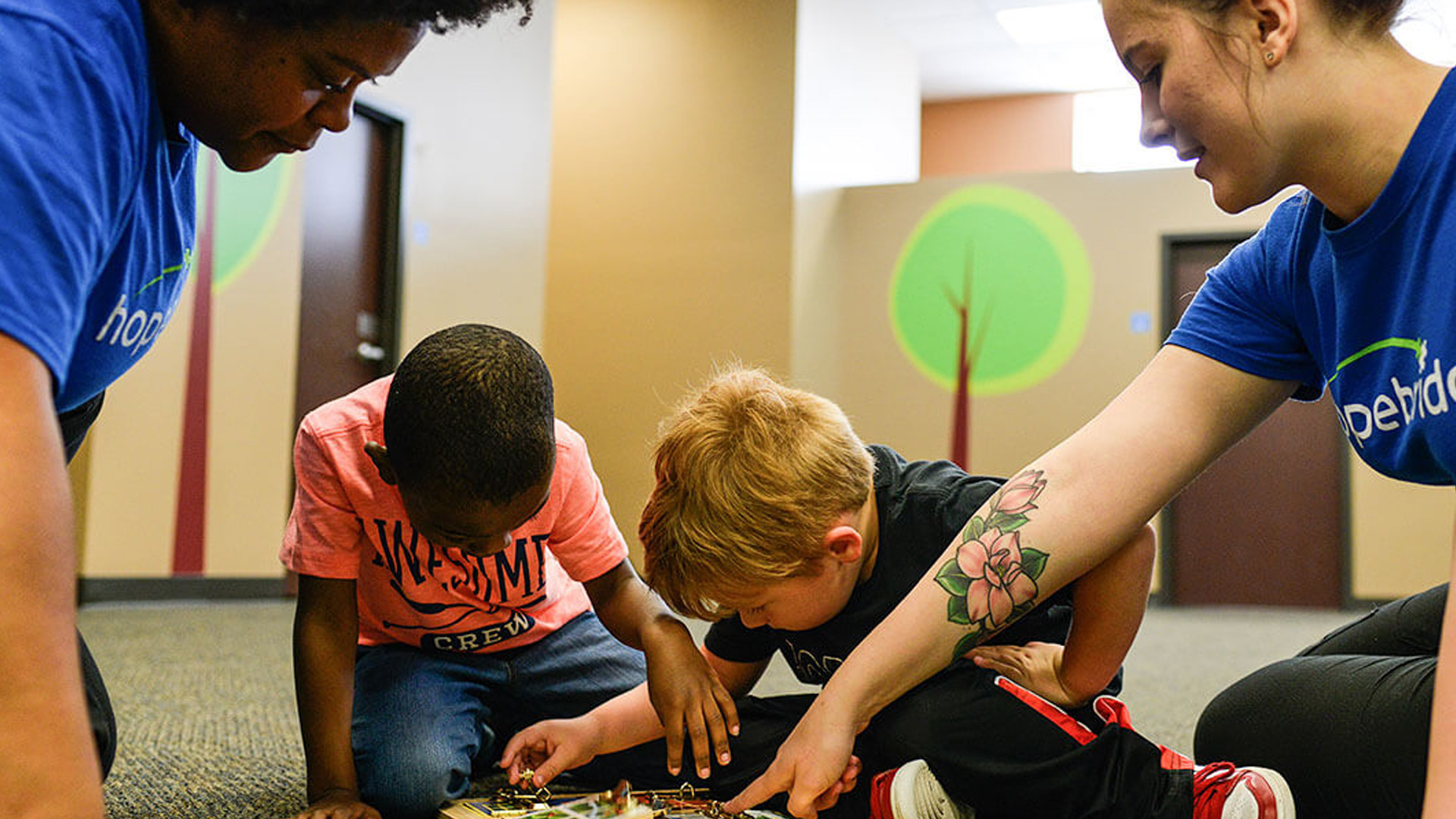 There's a Different Kind of Business Going on at Hopebridge
Hopebridge was founded in 2005 to serve the growing need for autism treatment services and to improve the lives of children touched by autism spectrum disorder and behavioral, physical, social, communication and sensory challenges. Hopebridge is committed to providing personalized outpatient ABA, occupational, speech and feeding therapies for affected children and families. Hopebridge provides a trusted place where they can receive the care, support and hope they deserve.
With their headquarters located in the Pyramids, we walked over to their offices and met up with Kaitlynn Coffman, Communications Coordinator, to learn more about what happens at Hopebridge.
Tell us about your company.
Hopebridge provides autism therapy services for children around the country. Originally founded in Kokomo, IN, Hopebridge has been offering progressive and compassionate ABA therapy services for over 17 years and we are now the leading provider in the industry. Hopebridge has expanded across 12 states, and we help thousands of families every year. We are committed to providing personalized therapy for children and their families touched by behavioral, physical, social, communication and sensory challenges by building a bridge to help them lead their best lives.
What's your suite number and how many employees work in your Pyramids office?
Hopebridge home office is located in suites 3050, 3060 and 3070. We do not have therapy centers in the pyramids, rather our administrative and support offices are located here. We have roughly 170 employees working in the pyramid offices daily with some remote and regional staff coming in and out as they travel.
What is something interesting about your business or staff, or what is something that sets your company apart from others?
Hopebridge stands out among other providers because of our 360 services. In addition to ABA, we offer autism testing and diagnosis, occupational therapy, speech and feeding therapy, and family training. We also provide extensive professional development and growth opportunities for all of our employees (a.k.a. HopebridgeHeroes) looking to grow in their career.
What is the most popular/frequent food eaten for lunch by your employees? 
I would say Chick-fil-a or Panera is our most frequent lunch options.
Thanks Kaitlynn, for taking the time to answer our questions, and most of all for serving the a community that is certainly in need. We are proud to be the home of your headquarters.
Learn more about Hopebridge, their 360 services, and how they support children and families affected by autism spectrum disorder and behavioral, physical, social, communication and sensory challenges by visiting hopebridge.com
And for those keeping score, the favorite lunch spot tally is now…
McAllisters – 1
Chipotle – 1
Chick-Fil-A – 1
Panera – 1