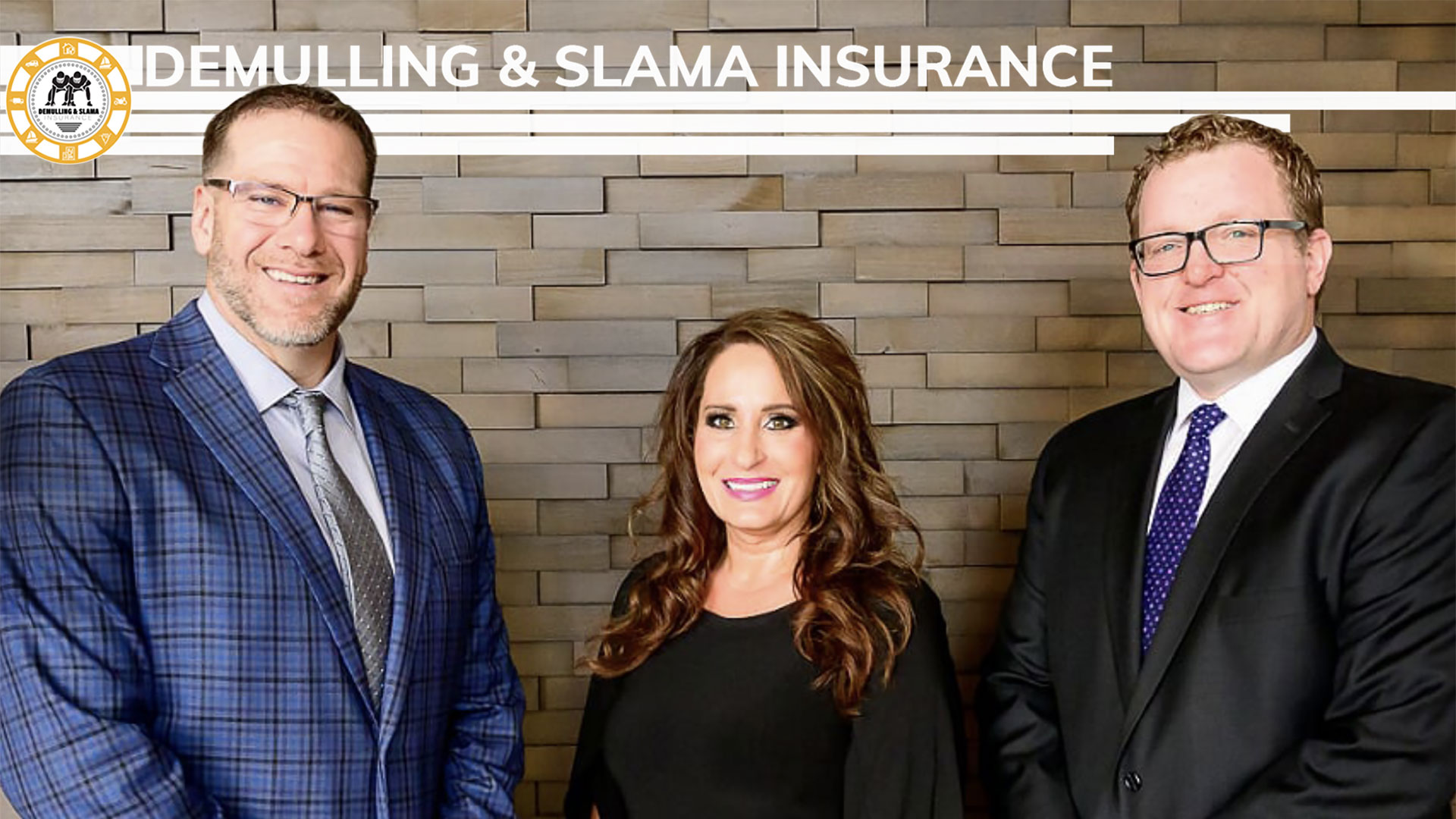 Pictured left to right: Rick DeMulling, Nichole Smith and Brett Slama
Do you ever wonder what kinds of businesses have their offices in The Pyramids?
One could assume that only medium-sized businesses to large corporations house their business operations inside the iconic landmark, but that assumption would be wrong. There are many small businesses that call The Pyramids home. DeMulling & Slama Insurance is one of them. They were very nice to provide us with more detail about their company and why they chose to work out of The Pyramids.
Tell us about your company.
DeMulling and Slama Insurance was formed in January 2016 by partners Brett Slama and Rick DeMulling. Shortly after formation, DSI formed a partnership with Smith Sawyer & Smith Insurance of Rochester, IN. Our strategic partnership has allowed our agency to work on a national scale serving small to midsize commercial lines insurance clients primarily in property and casualty risk management. We pride ourselves in being able to serve a broad range of industries by working as consultative advisors with a hard-working service team to exceed expectations.
Our team also offers a personal lines division (Home, Jewelry, Auto, Boat, Life, Personal Liability). Where we work with everyone from first time home buyers to some of the largest estates in Indiana. We pride ourselves in discussing how an insurance policy works (what is really covered) and are proud to represent the highest regarded carriers in our industry. This allows us to tailor coverage to your life and competitively adjust as life and insurance needs change (teenage drivers, vacation homes, that big anniversary gift, investment homes or Cousin Eddy's RV).
You can find out more details on our website at www.demullingslama.com
What's your suite number and how many employees work in your Pyramids office?
Suite 2043.  We are happy to announce and welcome our 4th employee Karly S. to the team and building, beginning in November. In total our agency has 43 employees across our 7 affiliate locations.
What is something interesting about your business or staff?
Fun Fact: Founding Partner Rick DeMulling is the president of the Indianapolis Chapter of the NFL Alumni Association. Rick was blessed to play in 8 seasons over his NFL career after being drafted by the Indianapolis Colts in 2001. Rick is also a spokesperson and client of PAI Hair Restoration, one of our new neighbors.
Fun Fact: Nichole Smith (Director of Personal Lines) is Mrs. Hendricks County 2022.
What led you to decide to lease at The Pyramids?
We picked the Pyramids in large part due to the proximity and ease of commute for our staff and clients. As someone who grew up in the area, the Pyramids have always been a recognizable landmark within the city. We are enjoying our new office and getting to meet our new neighbors.
What renovation of the property/buildings is your team most looking forward to?
We are looking forward to a lot of them, however the two that stand out most are the renovated lobbies and fitness center. Being able to have somewhere to work out so close helps remove the obstacles in getting back in the gym.
What is the most popular/frequent food eaten for lunch by your employees?
Lunch by our office is an easy pick… Chipotle…